The PREMIERE COMEDY MAGICIAN and ILLUSIONIST performing in the Maryland, Virginia and Washington DC Metro Area!
Experience the Fast Paced Comedy Magic and Illusions performed by the MOST POPULAR and FUN Comedy Magician in the Maryland, Virginia, Washington DC area!
Speed is the original "High Energy Magician and Illusionist" known for his hyperactive, fast-paced, fun and modern performance style. This amazing magician has performed over 4,750 live shows across the entire East Coast and Canada over the past 26 years. He will "WOW" and "AMAZE" your group or audience will his exciting magic, witty comedy and extraordinary skill!
Speed is available for MAGIC PERFORMANCES in all 50 States and Internationally.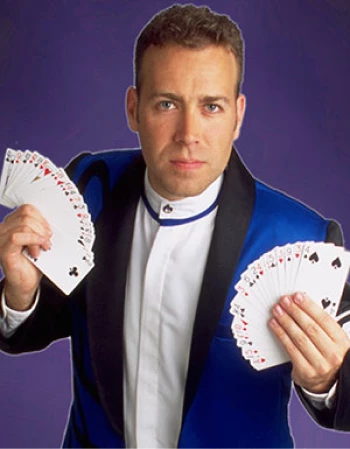 "The Original High Energy Magic and Illusion Show"
Trust your next event to a real full time professional magician with over 4,750+ Live Shows performed and a 100% 5 STAR Rating.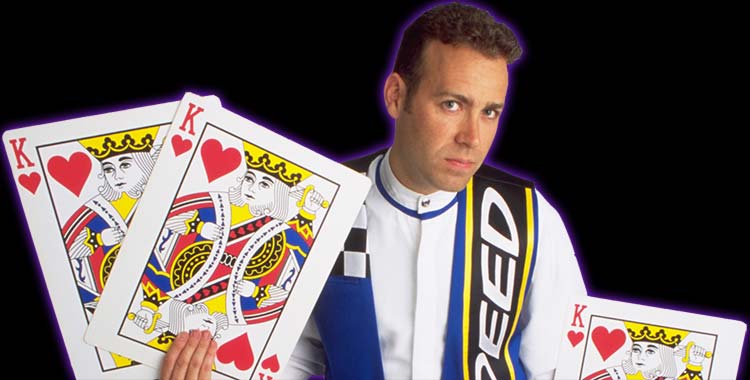 Speed is based in the Maryland, Virginia and Washington DC area, but regularly performs his show Comedy Magician and Illusionist show across the entire United States and Internationally
Whether Speed is on a Large or Small Stage, a Conference Center or your own Living Room, he will make your upcoming event something truly special and UNFORGETTABLE!
High Energy Magic of Speed – Magician, Illusionist, and Entertainer
Experience the High Energy Magic and Comedy of one of the East Coast's premiere entertainers… Speed. Speed is the original "High Energy Magician and Illusionist" known for his hyperactive, fast-paced, fun and modern performance style. This amazing magician has performed over 4,750 live shows across the entire East Coast and Canada over the past 26 years including being featured in many Newspapers, TV, Internet and Radio Station Programs. Speed experience and professionalism has gained him a strong reputation for being on time, fully prepared and always amazing his audiences with his fast wit, positive personality and amazing magic.
High Energy Magic of Speed is based in the Washington DC, Maryland and Virginia Metropolitan Area, but regular performs his fun and exciting comedy magician and illusionist show in Pennsylvania, Delaware, New Jersey, New York, North Carolina, West Virginia and across the entire United States and Internationally.
Stand Up Magic & Comedy
Interactive Magic and Comedy for Intimate Gatherings or Large Groups
AMAZING STAND UP MAGIC & WITTY COMEDY
Let Speed entertain your group with his amazing stand up magic and comedy show which has become a huge sensation in over 26 states and 3 countries. Speed is not your typical slow and artsy magician. Speed performs a fun, highly interactive magic experience where you and your audience will be on the edge of your seats for the entire performance. Speed customizes and tailors each shows magic and comedy to guarantee every shows success. Show durations range from 5-60 minutes. All magic and comedy are family/corporate friendly.
Stage Magic & Illusions
Grand Stage Illusions to Delight Small to Large Audiences of All Ages
EXCITING STAGE MAGIC & LARGE SCALE ILLUSIONS
Take your event to the next level with Grand Stage Illusions! Speed performs over 25 large scale illusions. Whether he is making a motorcycle appear, crawling through an industrial fan, or making your special guest appear, Speed will blow your audience away with some of the most amazing stage illusions. Did I mention Escapes? Speed and his assistant "Curl" perform a modernized version of Houdini's Metamorphosis. And Doves too! Check out Speed and Curl performing a fast paced, exciting Dove Act which will surely knock your socks off!
Walk Around Strolling Magic
Close-up & Strolling Magic Performed for Kids/ Families and Groups of all sizes
FUN AND HIGHLY INTERACTIVE WALK AROUND & STROLLING MAGIC
Let your guests enjoy the amazing strolling magic by one of the most interactive and skillful magicians on the East Coast. Speed has been performing his incredible strolling magic for over 26 years and is always a huge hit entertaining small and large groups. Speed's talents at slight of hand and close up magic are something to be seen. Speed will not only dazzle your guests, but he is known to make other magicians take notice. Speed tailors his strolling magic and comedy to suit your audiences age and sophistication.
The Most Fun and Interactive Comedy Magician on the East Coast!
Speed is a full-time professional Magician and Grand Stage Illusionist whom can handle any audience. Whether its a small intimate gathering of friends and family or a huge arena filled with thousands, Speed will meet and exceed your expectations with his fast paced style, massive audience participation and exciting magic!
Just a few reasons why you should concider the High Energy Magic of Speed for your next event…
1) Exciting, Fun and Modern Magic and Grand Stage Illusions
2) Reliabilty – We have not missed a show in over 26 years of performing our show.
3) On time- I believe in "hurry up, and wait". I always plan to arrive very early for your event.
4) Professional – I take my show and how I handle myself and my crew very seriously. We will always have a positive and professional attitude.
5) 5 Star Ratings – All my online reviews are actual clients, not me writing reviews about myself. I am proud of my 100% 5 STAR RATINGS and REVIEWS.
6) Highest Repeat Customers in the Industry – Over 70% of our shows per year have booked us before.
7) Highest Professional Bookers- We are happy to be one of the most booked acts by professional agents and clients whom book over 10 shows year or more.
8) 100% Corporate and Family Friendly Comedy.
We will be set up and ready to begin our show on time. We will provide everything needed to put on a great show for your audience (sound, lighting, backdrops, etc.). We will handle ourselves in a professional, positive and friendly manner. We will give your our best for every show regardless of the circumstances. Our goal is to help make your event the best it can be. I always give 100% for every performance.
Our goal is to provide you with top quality magical entertainment to help make your event a 100% success.
Background Check available upon request.
I believe any and all entertainers for children and adults should be willing to provide a Background Check. Often your entertainer will be interacting with your children, clients and family members and on many occurrences in your home.
You should insist on a full background check for any entertainment that you hire.
Summary of my Background Check:
No Arrest Records
No Misdemeanors
No Felonies
No Drug Usage or Offenses
No Lawsuits
No Sexual Offenses
No Child Related Offenses
No Alcohol Offenses
No Credit Issues
If your entertainer does not volunteer this to you… You must ask why?
We've Got Tons of Clients…
… and we want you to be next. So, trust your next event to one of the top magicians on the East Coast. Let us add you to our list of more than 500 corporate clients, including over 35 Fortune 500 companies.
"Audiences Raving Guaranteed!"
What does that mean? It simply states… If the audience is not raving about the magic performance… It's FREE. Period! That is how confident we are about our stage performances.